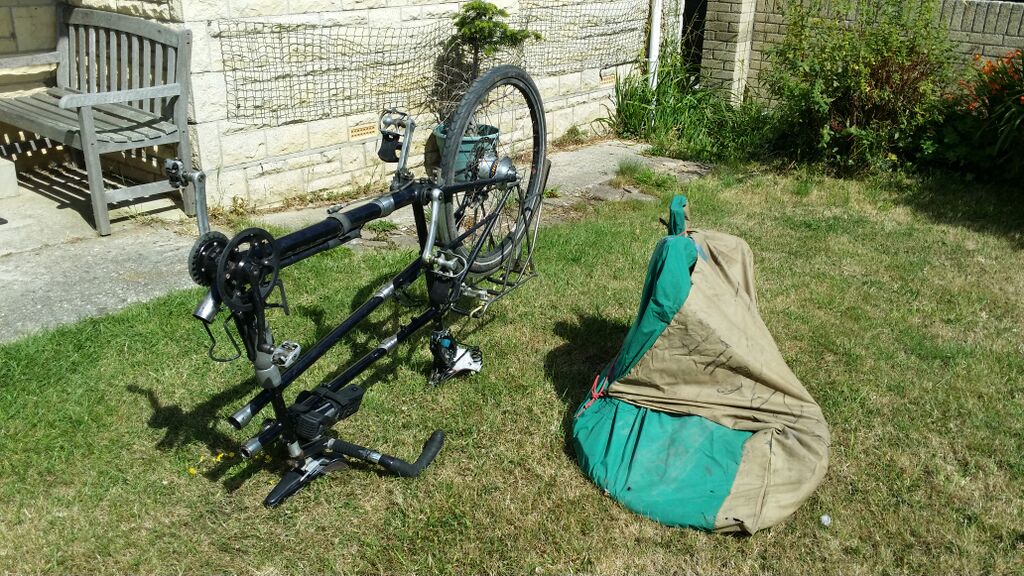 Download for this route in .GPX formats
The file is in .zip format. This needs to be unzipped and saved to a directory of your choice. You can then load it into the appropriate applications and GPS.
The Blog
The Tandem and Equipment
It may not be all about the bike for Cav and his mates but it certainly is for us. The bike needs to hang together despite neglect, frequent soakings and occasional mishandling.
We bought our tandem in 1999 and it has now done a large number of trips and given us great pleasure. It is a highly modified Thorn Explorer from St John Street Cycles in Bridgwater. It came in standard guise with two sets of S and S joints and twenty seven fragile gears. It was adjusted by Thorn to use Rohloff gears. It divides into three so that we can take it on many forms of public transport.
The S and S joints work superbly. You would never know riding the bike that it can be dismantled in 15 minutes. We often take just the front off the tandem when we need to get it into a hotel room or onto a train.
The management, who always likes to think he is in the forefront of technology, eventually decided that Rohloff gears and a rear disc brake were the things to have. The Rohloff 14 speed hub gear keeps maintenance to the drive system to a minimum. The disc brake offers the prospect of the bike slowing to a stop more quickly than anything else.
He convinced Robin Thorn to make him a new Rohloff rear section to fit the original front two. Fortunately he agreed a price with Robin as the final job proved very difficult and time consuming. It is easy to cut a frame and put the joints in. Making a new rear frame to fit, which Thorn did, takes real skill. We suspect it also brought tears to Robin's eyes. He quite reasonably expects to turn a reasonable profit and may not have done so on this occasion.
We ended up with what may be the first Thorn Rohloff tandem. We think it is superior to the production models as it splits into three parts rather than two.
We learned early on that the most difficult part of dismantling the tandem is the cable disconnections which result in kinks and all sorts of other problems. We have almost done away with this. We have the Rohloff cables to the rear hub, and the hydraulic cable to the disc brake, each running the length of the tandem. The Rohloff cables are attached with Velcro ties.
The Rohloff cable works better with an outer for the whole length whatever Thorn says. It can therefore also be easily removed at the hub and coiled up to the handlebars. The hydraulic cable has a bayonet fitting in it midway and is split without loss of fluid. The bayonet fitting is an eye wateringly expensive gadget but works like a dream.
We made some other modifications. We fitted a 2011 model Sturmey Archer hub dynamo and drum brake into the front wheel. We now have a drag and parking brake and our darkness is lightened in those tight spots when it is most needed.
Following Anne's illness we modified the tandem to allow her to freewheel. The long wheel base means that we can ride out of sync without our feet or legs touching. The stoker takes much simple amusement from pedalling backwards when we get the call "she's not pedalling on the back", a phrase which we understand in many European languages.
This modification works by the stoker's chain driving forward on the left side to a freewheel mounted in a chainset. The main chain drives on the right side straight from front to back without a tensioner. The crank axle lengths were chosen to avoid the rear cranks catching the chain. The only non standard component was that we had to have the freewheeling chainset helicoiled with a left hand thread to take a clipless pedal.
The main change for this trip is to abandon everything we possibly can to reduce weight. This is an expedition tandem which has proved itself over thousands of miles. Whatever we do it will never be very light or roll as well as a 700 wheeled lightweight tandem. The biggest change is to go for lighter faster tyres. Our old tyres would have been better suited to a tractor than a tandem. But they never let us down. Let's hope the new ones are as strong.
We have removed the front pannier carrier and will carry most things in a couple of Ortlieb rear panniers. We do travel light although it does not feel like it very often. We have become credit card tourists and no longer take a tent. If we are stuck we will get a taxi. In terms of clothing we have one on, one off and one in the wash.
Technology has moved on and we do our best to keep up. We will use a Samsung Note3 large phone for routes via Orux Maps and most other things together with a cheap Windows 8inch tablet. Our main GPS is a Garmin Montana and the stoker will carry a Garmin Edge Tour for her own information at the back and as a reserve. She also can't be parted from a first generation Kindle which still works like a dream. It can even still get emails for nothing though they are difficult to read.
The management very reluctantly allows the stoker to carry an overview map but we rely on the GPS and the Orux map app on the Note3 for detailed mapping. Even during the day, provided it is not raining too hard, we can refer to the Note3 if we want to change the route, or of course if we get lost.
On our last big trip we had a little help, which turned into a hindrance, from an electric motor in the trailer. This year we are both a little fitter and a good deal lighter so hope we can manage without electrical assistance for a little while yet. Our gross weight is reduced this year by around 40kg just by ditching the trailer and some body weight. Altogether we are about 50kg lighter than last time as the battery and electric bits weighed another 10kg.
Route Planning
Route planning for this trip could not have been easier. The French cycle route EV1 called Velodyssey follows the Bay of Biscay coast almost the whole way from Hendaye to Roscoff. We downloaded it in GPS format from website http://www.velodyssey.com. The website also has a detailed description of each part of the route which we can refer to on a day to day basis. Maybe one day, preferably in our life time, Sustrans will do this for UK routes.
One of the nice things about this adventure is that we don't need to book all the hotels in advance. It almost takes us back to our first cycle trips when we just turned up, but not quite. Sadly we are not up for that now. We don't carry a tent and we can't do a huge distance to find somewhere to sleep. But we are good with the web and will rely on booking hotels online, mainly with booking.com, a day or so in advance.
When we get near Nantes we will decide whether to go to Roscoff or Cherbourg. We have had to plan the route to Cherbourg. We did this on an Android tablet using Open Street cycle map on the Orux app. We then transferred it to Windows for final editing on Garmin MapSource. Sadly there is still no good GPX editing program on Android.
While most French hotels have good wifi it is also easy to get it in places like Starbucks or McDonalds, usually without even going in. Most towns of course have much nicer places with free wifi where it is worth buying something to eat or drink rather than stand on the pavement.
We are also not committed to the route and may make changes as we go. This is the main reason for taking the Windows tablet as we can run MapSource on it. We have not even decided yet whether we will come back from Roscoff, Cherbourg or even on Condor from St Malo if we have to.
Getting from Weymouth to the southwest of France with the tandem on public transport presents a challenge. It hopefully will take about 24 hours by train.
We can get the tandem into the cycle space on SouthWest Trains to London and we have tactics at Weymouth to avoid jobsworths. We will cycle from Waterloo to St Pancras and get Eurostar to Paris. We will have to remove the front of the tandem to make it short enough to hang on the trolley they load onto the train. We will probably carry the front with us to avoid it getting lost or damaged. Again we will have to try to avoid jobsworths who on past experience are much worse on Eurostar.
We will then cycle across Paris from Gare de Nord to Gare d'Austerlitz to get the sleeper to Hendaye. We have booked a two berth couchette and will take the tandem in with us. We may need to take it completely apart for this and will take some bin bags to put it in.
Navigation
Navigation on the rides could not be simpler. The management has a Garmin Montana and the stoker has her Garmin Edge Tour as backup. They both fit on the handlebars and are loaded with maps and tracks. All we need to do is to follow the track on the map screen. The destinations are marked as waypoints just to be on the safe side. We only get into real map navigation on the Note3 and Windows when we vary the route or fail to trust the instrument.
The Garmin Montana with the large touch screen has almost all the functionality of a paper map. It also has the advantage over a map of knowing where it is. Garmin technology is still well short of even a half decent tablet, the screen refresh is slow and sometimes unreliable but it is their best yet and almost certainly the best GPS around for cycle touring.
It is true that using the GPS this way deskills navigation. Once there is any deviation between the track on the GPS and the position arrow we know we have gone wrong. We seldom go more than 50 metres in the wrong direction unless we go a different way on purpose. We also should record that the stoker is very sad to have to leave her faithful SmartyPants GPS, an elderly Foretrex 101, at home. That is unless she hides it in the bag without the management seeing. Over the years, having been made when Garmin was good, it has given great service but it does not have the capacity to carry maps.
Communications
These days we use everything we can. This website is the main means but we also do Skype, Facebook, email and sometimes even phone.
We are away travelling a lot each year and it is important for us to keep in touch with family and friends. Communications, except in rural Dorset, are a far cry from our first big trip in 1999. Then we huddled on a hill top once a week to get a mobile phone signal to send an email which took four minutes to go. From our first tour we wrote a daily diary and most of these can be downloaded from akweb. With numbers increasing and improvements in technology, since 2006 we have posted our adventures on our web sites as we went along and these are still there. Like this one we put the basic site up before we leave and post the blog and photos about once a week. We do not alter them once we get home.
On our main phone we have recently changed to Three. They allow limited roaming abroad without an extra charge on the package. This will be useful on this trip as most of the functionality of the phone will work, including Google Maps and Internet. Most mobile phone companies still rip you off abroad for calls and data even in the Channel Islands. We used to turn off data when roaming which made having a smart phone pointless. We will still get ripped off for internal calls but we don't make many of these. We will use Skype when we have wifi and use Skype Out to phone landlines in France. This costs about 1p a minute.
This trip for the first time we are using the Samsung Note3 and the Windows Bush 8inch MyTablet . We no longer carry a large tablet or laptop which saves a huge amount of weight and charger clutter. With wifi (often called wiffy in other European countries) it is possible to surf the net, listen to and watch BBC radio and TV live, send and receive emails, and make Skype calls. As long as we have a phone signal we can also get our emails and some internet access free via our Kindle book reader but that is a last resort.