The Dedegol Mountains, Isparta, Turkey. This yearís challenge?

Bike and Gear

The tandem on the Rodwell Trail ready to tour

Our tandem is a Thorn Explorer from St John Street Cycles in Bridgwater. It is our third tandem together and superb for expedition touring. We traded in our previous Thorn in 1999 because we wanted S and S joints. This is so that we can divide it into three parts, originally for air travel but now even for trains in the UK. Robin Thorn gave us a very good price.

Thorn tandems always get good reviews in the various magazines. They also cost a good deal less than bespoke tandems from specialist builders. We had to choose from one of nine sizes but even with our unusual size configuration it was not difficult to get the right size.

Any tandem requires major overhauls and replacements doing the kind of miles we do. The Rohloff hub keeps maintenance to the drive system to a minimum. We still have to do lots of other maintenance. For example we wore out the wheel rims (Sun Rhino) but with great credit to Thorn they stayed true till the day the sides blew out. We have also replaced almost every moving part but the main structure remains sound and reliable.

The S and S joints work superbly. You would never know riding the bike that it can be dismantled in 15 minutes. The joints come apart with a spanner which looks like an old fashioned hooked bottom bracket tool. We often take just the front off the tandem when we need to get it into a hotel room or onto a train. Thorn uses two sets of Moulton cable dividers on each of the cables. We think that one split on each cable is sufficient and a lot less trouble but it does need careful thought and non standard braze ons.

Tyres and brakes are a serious problem on a heavily laden tandem. The ONLY tyres we have found to stand up to our use are Schwalbe Marathon XRs. On every other make we have used the sidewalls have blown out, sometimes in only a couple of hundred miles. Long ago we replaced cantilever brakes with XR V brakes and a drag brake is also essential.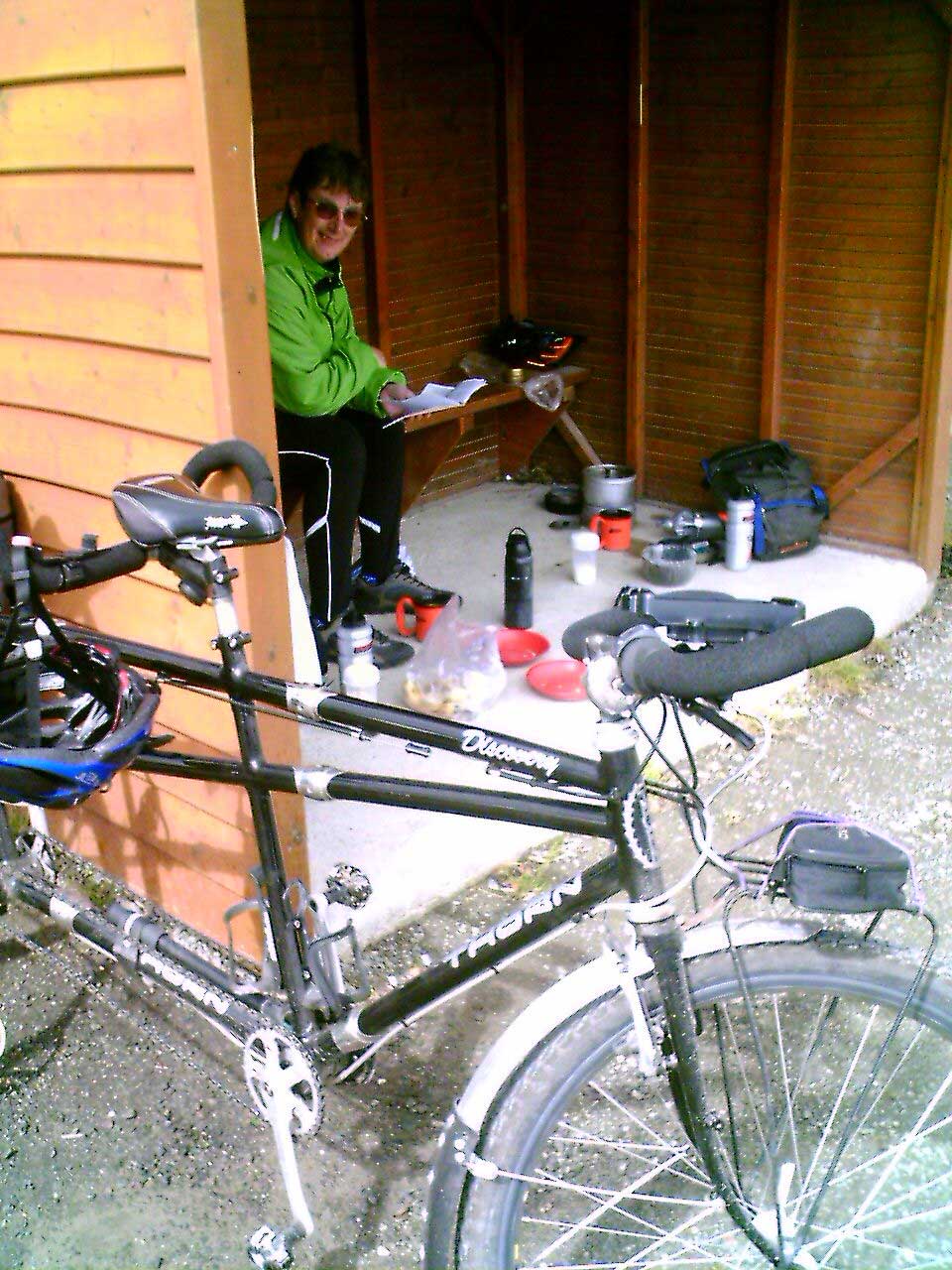 A typical lunch stop in a bus stop, this time in France. You will see cooking gear and much other equipment spread out.
In 2005, at enormous expense, we upgraded the tandem to work with a 14 speed Rohloff internal gear hub. This gives a gear range similar to the derailleurs it replaced but makes gear changing, maintenance and dismantling much easier. The 32 spoke rear wheel has proved to be strong enough for us. The downside is that it is not possible to fit the usual third drag onto the rear wheel. It is only possible to fit a disc brake and we are giving this another try. The original Hope melted under tandem loads. This time we are fitting a top of the range brake with the largest disc possible. We also have a very high tech splitter on the hydraulic pipe so that the tandem can come apart. We are sticking with our Sturmey Archer new generation hub dynamo with a combined hub brake in the front wheel. It works to slow and steady the tandem on steep hills. It also provides a magnificent front light beam. We are also keeping our rear V brake so we have four brakes altogether. This may be overkill but we would rather be on the safe side until we prove that the disc brake works.
Following Anneís illness we modified the tandem to allow her to free wheel. The timing chain drives forward to a free wheel mounted on the left hand side front crank. The main chain drives from the right front chain wheel direct to the rear wheel. The long wheel base of the tandem means that we can ride out of sync without our feet or legs touching. The bits we needed were not easy to get, then they were modified by High Path in Wales but it all works well.
We do travel light although it does not feel like it very often. We have become credit card tourists and no longer take camping gear. In terms of clothing we have one on, one off and one in the wash. Our one luxury is a pair of aluminium three legged stools.
| | |
| --- | --- |
| | The right hand side of the tandem with the new hub gears from Rohloff |
We brew up using our trusty trangia meths stove though it can be fun trying to get meths in some countries. We also carry plates, cups, eating irons etc but most importantly of all a Swiss Army Knife. We usually have a picnic lunch and brew up along the road most days. We have one pannier full of food and always have emergency rations at the bottom. We have needed to carry three days food on some trips.

Before Anneís DVT we carried all our stuff in four panniers and we did this again last year, doing without our battered BOB trailer. Anneís new electronic blood monitor takes up less space than the earlier model but still needs to be kept dry. Our Ortlieb waterproof panniers kept everything, including our clothing and other electronics, completely dry last year but this year they may get a more extended test.

Being privileged to be able to spend several months away from home each year we have always considered it important to keep in touch with family and friends. On our first tour we started a daily diary and on this and on subsequent trips we sent it by email to an ever increasing number of people. Back copies are available if anyone wants them and some are included in the Links and Downloads below. In the past we have used all sorts of complex set ups. We now use an XDA mini s which runs on Mobile Windows 5 and is a phone and computer. We should be able to post from the PDA via the ISP dial-up direct to this web site or use wifi where this is available.

We may also buy a Turkish sim card. We would need to make quite a lot of calls in Turkey to make this worthwhile. It has the advantage that locals phone back if we need to book accommodation. If you need our phone numbers please email, we are naturally reluctant to put them on this web site.

Home Route and Navigation Voyage Out 1 Voyage Out 2 Week 1 Week 2
Week 3 Week 4 Week 5 Week 6 Week 7 Week 8 Week 9 Week 10
Week 11 Return Voyage Cargo Ship Travel Stokerís Leg Bike and Gear Transporting Bikes Photos Links and Downloads