Weymouth Lubeck Waren
Days 1 and 2 April 29th and 30th Weymouth to Lubeck by train
<![if !vml]>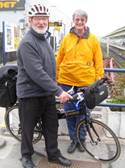 <![endif]>I left home with a good degree of apprehension. I am so used to having the help and support of the stoker, which I know is mutual, but I am so bad at doing things she does well. Especially this is being in charge of money, passports and of course lots of other things which make our tours work. She normally makes up for my family trait to lose pretty well anything which is not nailed down.
She came to the station with me to see me off and I was delighted to see Janet who had also come to wave goodbye.
We, sorry I, made it into Waterloo on time. Crossing to Saint Pancras for Eurostar presents me with no problems. I know the way and, after all, for 30 years I cycled here every day. I even had time to call into a cycle shop and get a couple of spare tubes.
I had plenty of time to dismantle the Airnimal. I found a vacant seat at the station and used the bike lock to lock my bags to it. Dismantling the Airnimal to its smallest size requires concentration and so I needed to reduce the chances of any passing scum stealing anything as happened in Granada earlier this year.
It was the usual pleasant two hour run to Brussels. Brussels Midi station is big and confusing but I found the way out and made for my hotel which was about half a mile away. I lugged the bags containing the bike and everything for the tour which took half an hour with frequent stops. It was a hot afternoon and I was very sweaty.
I found the hotel where I expected to. It can only be described as unusual, a three star tucked away on a pedestrian square adjacent to a busy main road. I checked in at the modern desk but took some time to find the room. There seemed to be at least three different lifts serving half a dozen rooms each on about five floors. There were few signs, no staff around and get the wrong floor, as I did once, and all you can do is start again in the lobby.
My room on the fourth floor was very pleasant with great views but with essential air conditioning. It was not needed for the weather but because the traffic noise would be unbearable with the windows open.
After a while recovering from carrying the luggage I made what turned out to be the excellent decision to reassemble the Airnimal. Soon I was wheeling it out of the lift and through the lobby for an exploration of the area. Brussels around here can only politely be described as scruffy, worse than the back streets of London's St Pancras which is saying something.
I went back to the station to check out my platform for Cologne tomorrow. It was not easy and so worth going back to this appalling unreformed shopping centre excuse for a station. Talking to people here comes something as a shock. Rather as in Canada they speak a bastardised kind of Esperanto. For me it was a crude combination of French, English and German. This even applied to the TV channels I watched. When they used their own language, which was seldom in my hearing, it had the lovely sing song sounds of Scandinavia.
<![if !vml]>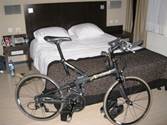 <![endif]>Having found my platform I went in search of a supermarket which involved a lengthy ride taking me to the fringe of the tourist area. Cobbled streets and bits of city walls and old buildings appeared but still no supermarket. Eventually I came across a Carrefour express near the hotel. Amazingly I found a veggie pasta salad as well as supplies for tomorrow and a bottle of wine.
Back through the badlands I went to my eyrie on the fourth floor. Seated in my window seat looking at the scaffolding clad dome of Brussels, TV on and a glass of wine in hand, I remembered how much I like travelling. And I liked the ethnic bad lands of Brussels Midi more than the safe tourist area enclosed in its condom.
Brussels to Lubeck
A second day of train travel was not strictly necessary to get to Lubeck. It can be done in a day from Weymouth but it was nice to split the journey. I was packed and had wheeled the bike into the breakfast room by 7am. The staff were still preparing breakfast which would eventually be full German. Still there was plenty out for me and at 7.20am I cycled into the station.
The Thalys train left on time with me ensconced in my first class seat kindly booked for me by the stoker. The Airnimal fitted nicely in the rack above. This is how train travel should be. Not only was a second breakfast served at my seat but I was writing emails and listening to the Radio 4 Breakfast programme on free wifi. I think not in my lifetime in the UK.
I had an easy twenty minute change in Cologne. Fortunately it is a proper station and therefore easy to find the correct platform. But not so easy to find the correct coach. I took the wrong seat and half way through the journey had to stagger down three cars. On the good side my proper seat was in first class. On the down side the Airnimal was left to look after itself in steerage.
I had another easy change at Hamburg, this time onto a double decker commuter train. Once in more enlightened times we had these in London. The modern ones are so much better with stairs at each end of the coach and two proper levels. They double the capacity of the line and have another enormous advantage. Downstairs passengers' eye level is platform leg height. This is guaranteed to brighten even the boring commute.
John met me at the station. We both arrived at the same time, John at the end of a very fast 106km ride. The Airnimal assembled we cycled off through the centre of Lubeck to the youth hostel. Fortunately the GPS worked perfectly. It seemed to me to be fairly important to get the first ride right even though it was only 3 or 4km.
The hostel is huge, in a modern building with good facilities. Like many (all?) German hostels it lacked a members' kitchen and free wifi but otherwise was fine. After the long journey and early night was in order.
Day 3 May 1st Day ride in and around Lubeck
Having chatted almost non stop since we met we went our separate ways. John made for the internet cafe to update his blog. I felt a bike ride was in order to clear away the journey cobwebs. I was also concerned about John's tales of the huge distances he had done at great speed. I was really only half prepared for this tour and felt the need for a training run.
<![if !vml]>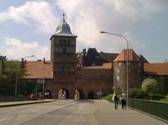 <![endif]>
Lubeck is an ancient town built on a large river island. The hostel is on the mainland to the north of the island. Cycling south I entered the city through its very impressive mediaeval gate buildings. They are constructed in redbrick with typical rounded German turret roofs at several different levels. The town centre is a mixture of ancient and modern, with cobbled streets feeling unpleasant under the Airnimal wheels.
I exited east over one of the town's several bridges and then followed the river south. I was making for Grosser Retzburger See, a huge lake some 15km long. John says that the lake is the result of glacial action. This seems strange to me when the countryside hereabouts is so flat but he assures me that he is right.
John had already mentioned his love hate relationship with the German cycle paths. I was about to experience them for the first time on this trip. The paths are extensive and cyclists are expected to use them. They are also well designed and cyclists here ride correctly, passing port to port. On the down side they are slow and often bumpy and not well maintained.
Almost the whole way to the lake was on these well used roadside paths. By the time I got to the lake I was beginning to think how much nicer it would be on the road.
The lake was impressive, wide and stretching into the distance as far as the eye could see. I joined the lakeside cycle path and continued south. I passed numerous sailing centres and lake side chalets. The waters were dotted with sails and it was a lively place this sunny morning. The path was always close to the shore which was lightly wooded with deciduous trees.
The lakeside ride was exceptional and it would have been nice to continue and see if it went right round the lake. The distance involved put this out of the question this day.
About halfway down the lakeside I turned west and headed across a rise and through forest, mainly on track. I was heading for the canal tow path to get me back to Lubeck which I found easily. It was busy with cyclists. Mind you in this flat country with lots of cycle paths cyclists are everywhere.
Today is May 1st, Labour Day falling on a Saturday. The Germans have an interesting approach to bank holidays which would be unacceptable to the British. If it falls on a weekend, hard cheese. Not only that but because today is like a Sunday, tomorrow will be treated like a Saturday. No extra day off for them.
As I made my way back into town there were people canal side being entertained by choirs and drinking beer. There was even the odd ompa band. The bikes on the tow path began to slow me down. I did a quarter circle before returning to the hostel in time for late lunch.
In the afternoon it rained, at times quite hard. It was the first rain John had seen for about three weeks. It is pretty obvious who is to blame.
Day 4 May 2nd Lubeck to Wismar
We awoke very early to a bright sunny day. The Germans take breakfast very seriously and we took the opportunity to stoke up for the road ahead.
The final roll out did not take place until just gone 9am. This was mainly due to my slowness at getting my stuff together. John is well practiced after a month on the road. I had planned a route to avoid the main road out of Lubeck but we did not need to use it. The direct urban dual carriageway north had hardly a vehicle on it.
As we neared the outskirts of the city there was a little more traffic. We somehow seem to have missed the dedicated cycle lane, and, judging by motorists and cyclists, its use is obligatory. We got onto it via an overbridge which was a good move. It was smooth and wide and avoided difficult junctions.
We eventually came to a tunnel under the river Trave. The cycle route took us straight to a waiting bus complete with cycle trailer. It is used by cyclists and small motor bikes which are not allowed in the tunnel. It runs frequently to a time table and has low level access for bikes.
<![if !vml]>
<![endif]>Getting off the bus we continued, following the GPS route north. This had not taken into account the cycle paths though we knew we were not very far out. We ended up taking advice from locals on the route and took a lovely off road route on a track around a lake. It was well worth doing the extra few metres involved.
As we emerged from the lake path we were overtaken by what looked like the local CTC, eight or so elderly gentlemen on well found touring bikes making a good pace. We drafted them for a while on quiet roads through woodland and fields with few hills.
Soon we gained Traveamunde. It was John's ambition to buy a cake here. The first shop we came across sold bread, smelled of cakes but had none. This set him off but he completely failed in his objective. We cycled from end to end of the town and I am sure we would have succeeded if there had not been a fun run. This prevented us from cycling the promenade where undoubtedly all the cake shops were.
We got the ferry across the mouth of the Trave and here we think entered into what was until 1989 the GDR. There was no perceptible difference and the facilities for cyclists were good.
<![if !vml]>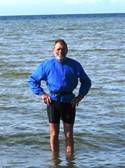 <![endif]>
We had a short stretch on country lanes before joining the tarmaced cycle path which continued with some short stretches on minor roads all the way to Wismar. Most of the way we were close to the Baltic Sea. John had been cycling for four weeks to get here and to celebrate took his shoes and socks off to have a paddle.
It had been a superb ride in the sunshine beside the Baltic Sea which was so blue it could have been mistaken for the Mediterranean.
Day 5 May 3rd Wismar
<![if !vml]>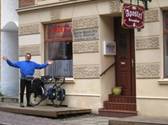 <![endif]>We had built in a day off here, staying two nights in an apartment in the Pension Apostel. Neither of us really needed a rest but it had been built into the plan in case John was tired or I had teething troubles with the bike.
As it was it rained all day but even so we enjoyed exploring this ancient town. Suffice to say that as well as the interesting and varied architecture it has many places worth visiting. We particularly like the church of St Nicholas and the real working port.
Day 6 May 4th Wismar to Gustrow
<![if !vml]>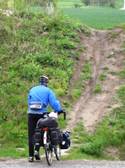 <![endif]>
There was a Dutch cyclist at our rather lavish German breakfast. We exchanged routes. He was going north and we south east. He said we were on the Copenhagen to Berlin cycle route and he was correct.
To avoid a busy road I had planned the route north and then circling around Wismar to join the cycle route. This went fine until we came across a new road. It had a fine smooth tarmaced cycle route beside it which we followed. But like many cycle routes in the UK it came to an abrupt end, though unlike most UK routes it managed to go a long way first. Also, like many UK cycle routes and footpaths, it continued up a steep bank and across the road on a well used desire line. This quickly got us back on the planned route.
<![if !vml]>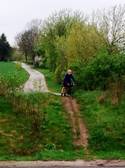 <![endif]>
We now had some very pleasant cycling on rural roads through wide fields that once may have been collective farms. This ended rather abruptly when the route took us up a rougher track than we had met before. It was wonderfully remote but rather unsuitable for the narrow tyres on the Airnimal.
Wild life abounds here, some of which we do not recognize. Coming up a little rise we saw a pair of birds in a nearby field. They were about the size of swans but otherwise unlike swans. I photographed them and a park warden later identified then as cranes.
<![if !vml]>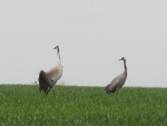 <![endif]>Not soon enough we were pleased to see that our track joined a surfaced road. As we approached the junction we were less pleased to see that the surface was cobbles. Many town and village streets and some country lanes here are cobbled and are virtually unrideable. In towns all the many cyclists take to the pavements as the norm. UK officials and anti cyclists alike will be amazed to know that here no one has been "nearly killed".
On this country road, like many others we met along the way, we took to the unmade edges to avoid the bumps. Fortunately on this occasion the cobbles only lasted for about 500 metres.
By now it was late morning and John decided that not only would we arrive too soon if we carried on at this speed but also that there was a nice route off to the right. It was indeed a very pleasant route through one of the forests of deciduous trees which abound here. The route was on good track and passed close to a huge lake. The new green leaves shone in the morning light.
<![if !vml]>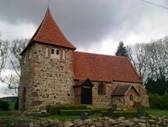 <![endif]>
Leaving the forest we gradually drifted northwards to regain the planned route. We had a picnic lunch in a tiny remote village beside a stone church with a brick built tower.
We now had an unplanned diversion. Following the cycle route and without any warning we came to a closed river bridge. We again took a diversion south and then drifted back north. This time it was less welcome as we felt we wanted to arrive.
Once in the city centre of Gustrow we made straight for the Youth Hostel waypoint on the map only to find that the hostel did not exist here. John enquired only to find it was a further 5km on, on the edge of the lake. I had put the waypoint on the map in the wrong place.
The hostel was large, modern, busy and comfortable - just as one would expect a modern hostel to be.
Day 7 May 5th Gustrow to Waren
Last night I had a good veggie pasta at a restaurant across the road. It seems to be surprisingly easy to get veggie food here. Breakfast was again substantial. We had little hope of finding anywhere where we were going to buy lunch so we stocked up.
Today we were cycling in remote rolling countryside beside many lakes. We left the hostel on the cycleway near the lake. After a short easy climb over a ridge we wound through deciduous forest on smooth tarmaced road. There was little or no traffic and the sun shone through breaks in the clouds.
We came to the tiny hamlet of Bellin with its stone church and brick upper parts. After this we passed along the shore of a lake called Binnensee before taking a short break at Serrahn. We searched here for ancient dolmen but failed to find them.
So far, except for short lengths of cobbles, we had had tarmaced road. For a good deal of the rest of the day we were on forest tracks. In the main these are easier to ride than cobbles except for sandy bits. We were even forced to walk for 50 metres or so.
We came across a little village called Dobbin complete with explication boards and a few tourists on a horse bus. The village was owned by the Dutch royal family, presumably as their hunting base in Germany. There were clear signs of the benefits this brought to the villagers.
We moved on to lunch in the forest beside the Drewiizer See. It was a short diversion from the main route and while in summer the resort here may be busy today we did not see a soul.
The afternoon involved more of the same which as a cycle experience would be hard to beat. We emerged from the countryside onto the edge of the huge lake Minitz.
The lake edge cycle track brought us into the busy tourist resort of Waren which reminded me of Lake Windermere, though of course without the surrounding hills. There were trip boats, some looking as if they had been splendidly renovated. The town with its cobbled streets offered everything a tourist might need.
We cycled onwards to the youth hostel, located on the edge of the Minitz and backing onto a smaller lake. We had a pleasant welcome and were given our own room. I have now cycled 250km without a serious hill.