Wildlife along the way
Wildlife along the trail and nearby is prolific. It has been said that the first part of the route along the Rodwell Trail has more species of butterfly than many butterfly parks in other parts of the country. The whole of the trail is well known to and frequented by bird watchers. Sometimes you will come across large groups of twitchers when a rare bird is blown in on the wind. It is less well known for its mammal population but many may be seen by the sharp eyed and Portland has its own rare breed of sheep which has only recently been returned to the Island. Portland Harbour provides refuge for a number of interesting birds, especially divers and red-breasted mergansers, which can be viewed from the trail. Chesil Beach holds Dorsetís only colony of little terns, our smallest tern species, which breed on a protected site opposite the Fleet Lagoon. Their success rate is not high as their nests are particularly vulnerable to foxes which are difficult to control.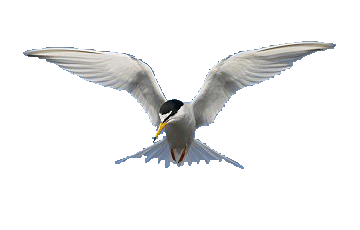 Little Tern
The islandís inaccessible sea cliffs are home to breeding razorbills, guillemots, fulmars, kittiwakes and a few puffins. The Trail along the cliffs provides views of both seabirds and passage migrants. The huge numbers of wheatear and stonechat, passage migrants, in early spring and autumn are most impressive. In excess of three hundred wheatears can be seen on Portland Bill alone when weather conditions are favourable in early spring. Portlandís disused quarries along the way are also good places to search for unexpected rarities.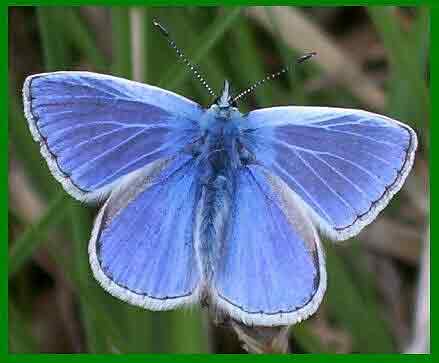 The Common Blue Butterfly
A total of 47 butterfly species regularly breed in Dorset and many can be seen along the trail and in the nature reserves on the Island. Several species are scarce or threatened nationally. Specialities such as the stunning Adonis blue, silver-studded blue, Lulworth skipper and the beautiful marsh fritillary are real Dorset treasures. You may be lucky and find them as you go along the way but most will just enjoy the brief moment of colour and peace as they pass by. It is said that the animals which live along the trail include deer, badgers, otters, dormice, bats, the prolific fox, and many similar small mammals. No one has actually seen otters recently. Perhaps a lone cyclist very early in the morning will see one as she passes by. Even the least observant of us will however see plenty of squirrels and hear the small mammals in the undergrowth. And it should not be forgotten that it was a Post Office worker from Fortuneswell who, in good Dorset tradition, recorded the latest sighting of the fearsome Dorset Puma.